The humble Alfresco has developed into one of the most popular rooms of the home, which has been amplified over the past 12 months, due to all the lock downs and stay home orders we have endured.
No matter your life stage, lifestyle or location an Alfresco offers great options for living, entertaining, relaxing and enjoying your new home. Let's explore why an Alfresco is the top of the must-have spaces for any new home build.
What is an Alfresco?
An Alfresco is an outdoor room or an extension of a house, which is positioned under the main roof of the home. It is usually a part of the original structure of the roof and not only improves the aesthetic of the home, it also increases the usability of the land the home is positioned.
McDonald Jones has always understood the importance and appeal of a great Alfresco, which is precisely why we have made Alfresco's available across every design in all ranges.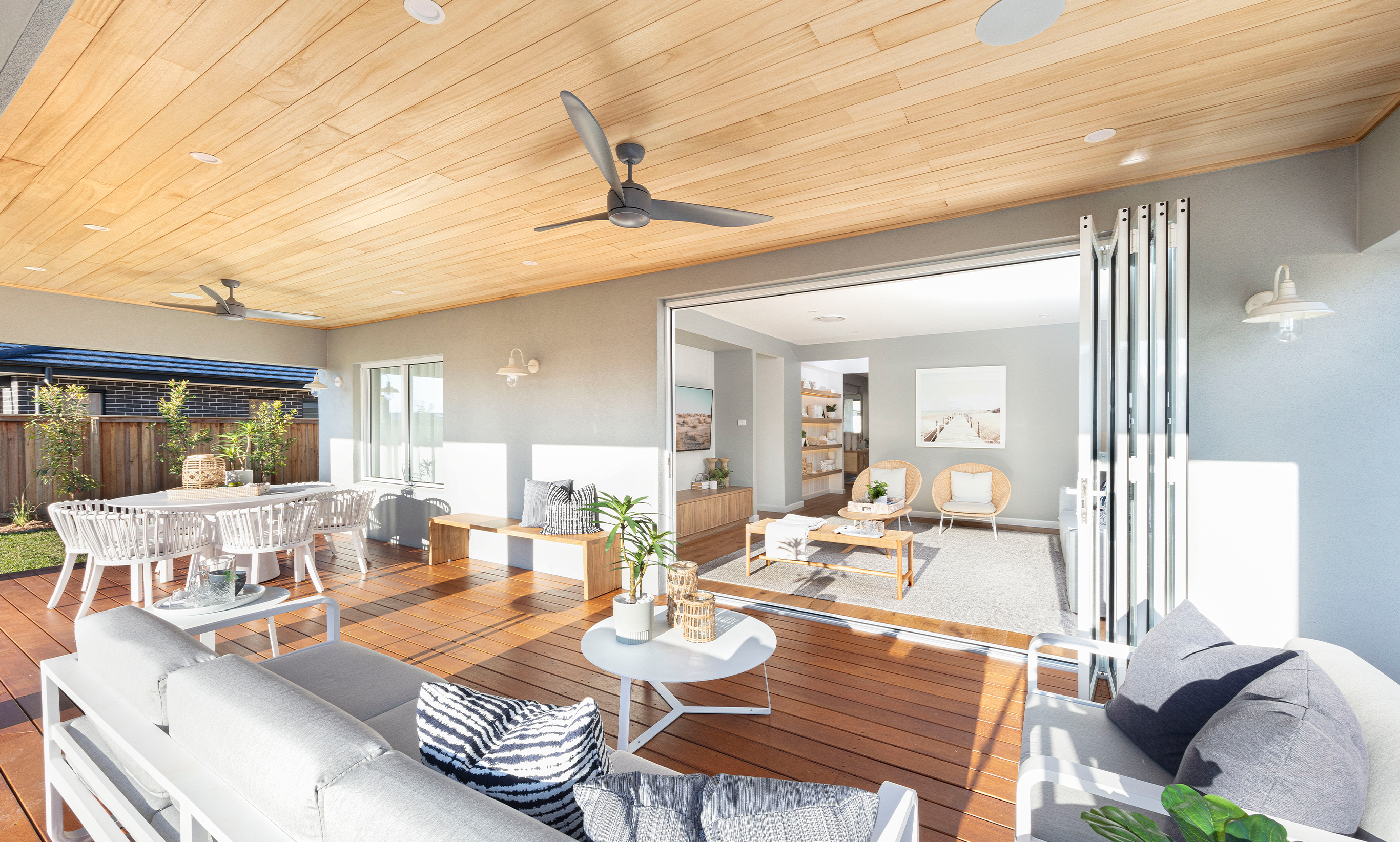 Why choose an Alfresco or Outdoor Room?
Australian's love the outdoors and an outdoor room or Alfresco offers a comfortable connection to outdoors creating an extra room for you to enjoy no matter what the weather is doing. This additional outdoor space can be used all year round, thanks to the latest products and accessories like outdoor heaters, fans, furnishings and blind systems to name a few.
What you should consider for your Alfresco?
A good outdoor room ticks all the boxes: it's durable yet comfortable and offers both shelter and a connection to the natural world. A covered outdoor living space with a great BBQ or outdoor kitchen is ideal for lunches, brunches or dinner parties where you can invite the wider family over for celebrations and events. It could also be your quiet spot where you can read your favourite book in peace or a wonderful space to draw, paint or create to your heart's desire.
Consider designing your Alfresco around a feature like an outdoor fireplace or pool, when you get the balance right, you can add an entire extra living space to your home. Having your own furnished Alfresco area provides you with more living and entertaining, giving you more opportunity to simply switch off, relax, and relish the joy of staying outdoors, within your own private haven.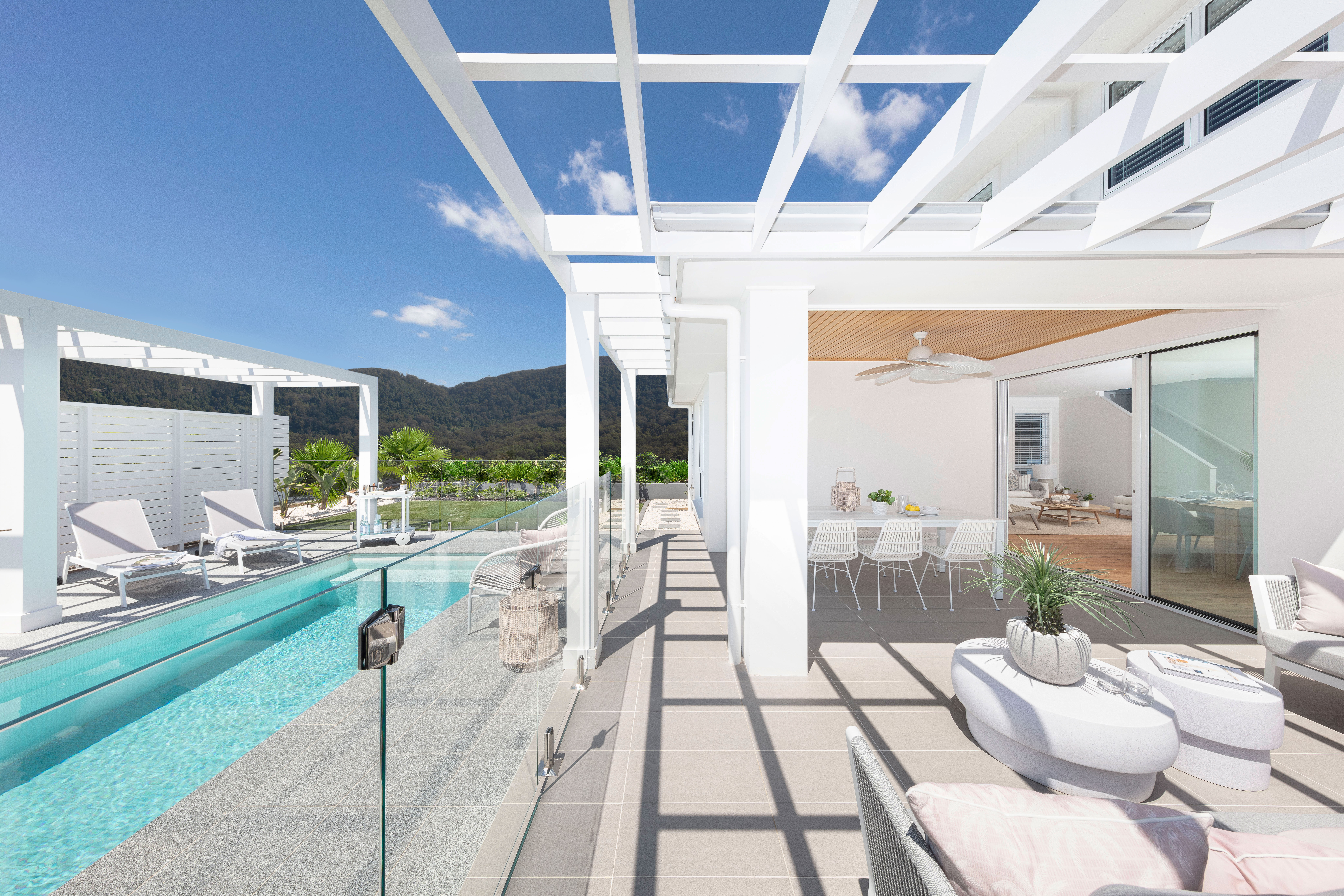 Alfresco Ideas
Whatever your reason for wanting an Alfresco, here are five top tips to create your perfect Alfresco, to help inspire your ideal outdoor room:
1. Create an all weather room
It is great if you can use the space all year round and in most weather conditions. • In warmer climates, it is advisable to include ceiling fans. • Retractable clear awnings or shutters can protect from rain and wind • In the colder climates of Australia, you can consider including features such as fireplaces.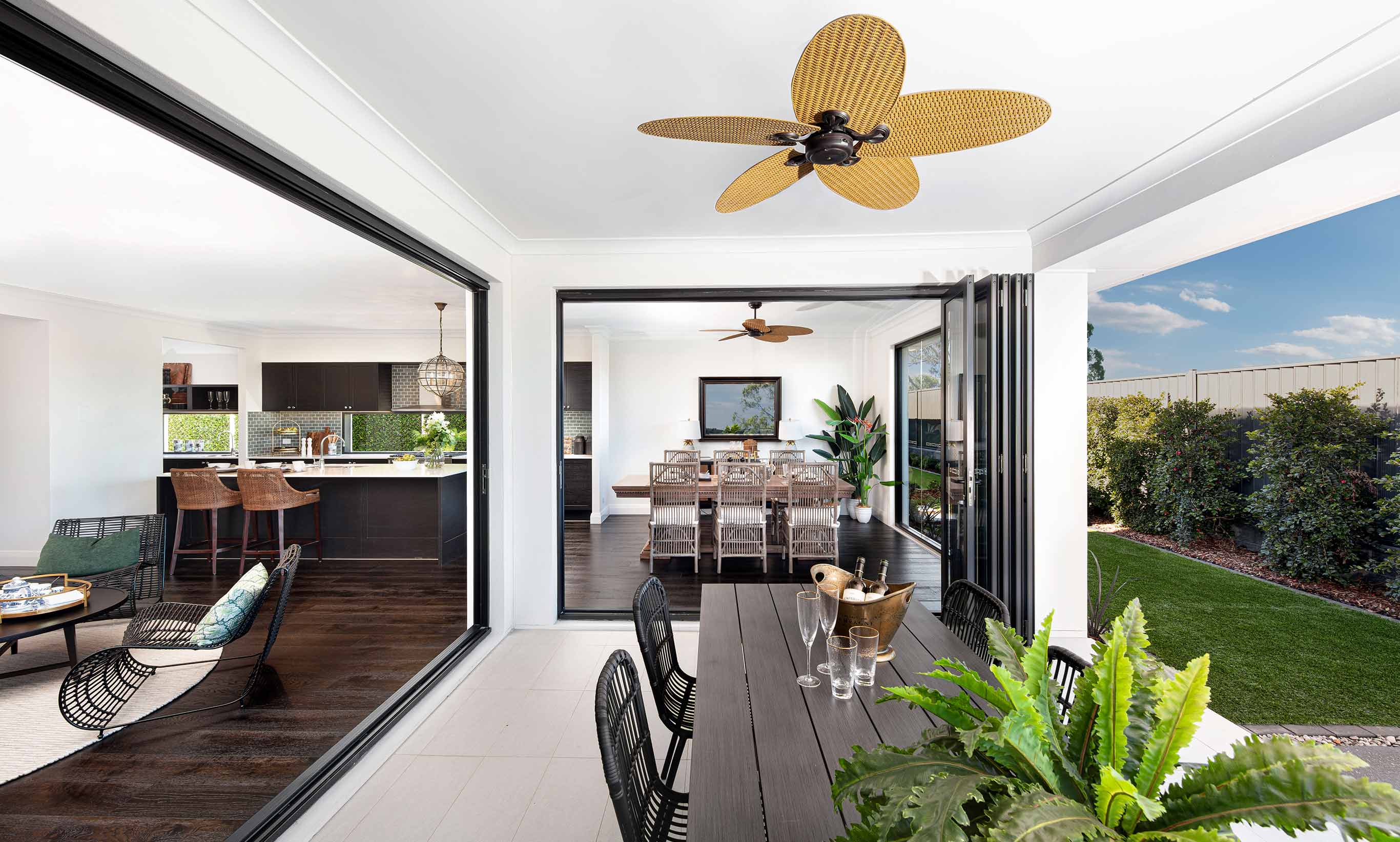 2. Multiple Uses
Your Alfresco room should be a space you can enjoy throughout the day, from relaxing to entertaining. Consider zoning your space to encourage and maximise usage and don't forget to think about maintenance, care and upkeep when selecting materials and furniture.
3. Close connections
Extending your Alfresco or creating seamless connections to your environment will serve to create a beautifully harmonious space for you and your loved ones to enjoy. Consider the following:
• Use timber battening to extend your Alfresco and maximise your space
• Consider using similar materials to continue the styling from inside to your outdoors ensuring the spaces flow and are cohesive to the rest of the home (eg. bricks, stone, timber accents)
• Have steppingstones or paving directing people from your alfresco outdoor room to the garden
4. Alfresco Styling
Decorating shouldn't stop at the backdoor, continue the style of your home from your indoors to your outdoors. With all the choices you make in styling your outdoor room, think about creating a calm, uncluttered and relaxing space.
• Try a darker shade of paint than you've used inside
• Experiment with natural materials and textures to blend the inside and out (eg. stone, timber, renders)
• Furniture should be able to withstand the weather, but also convey a more relaxed style that you might have inside.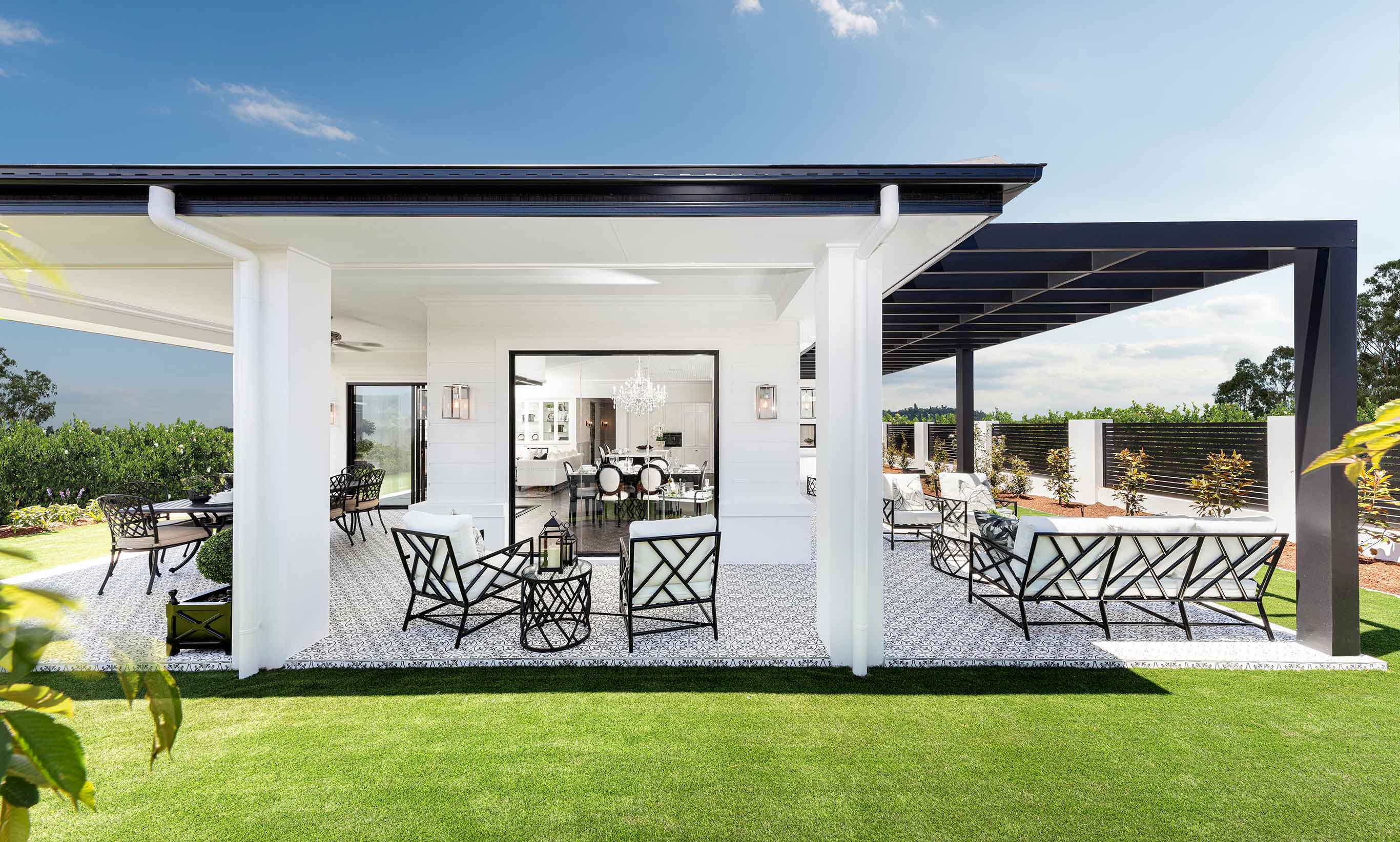 5. Greenery and Landscaping Your Alfresco
Just as you should think about how your inside spaces blend with your outside spaces, don't forget to consider what kind of landscaping and greenery you would like to enjoy. The best Alfresco areas seamlessly link between home and your backyard, spaces should integrate with your landscaping and plants.
Top tips:
1. Think about including greenery in pots or having a green wall within your alfresco area.
2. Think about trees that you could plant to provide shade in the hot summer months
3. Plant a deciduous vine or creeper to grow over a pergola or screen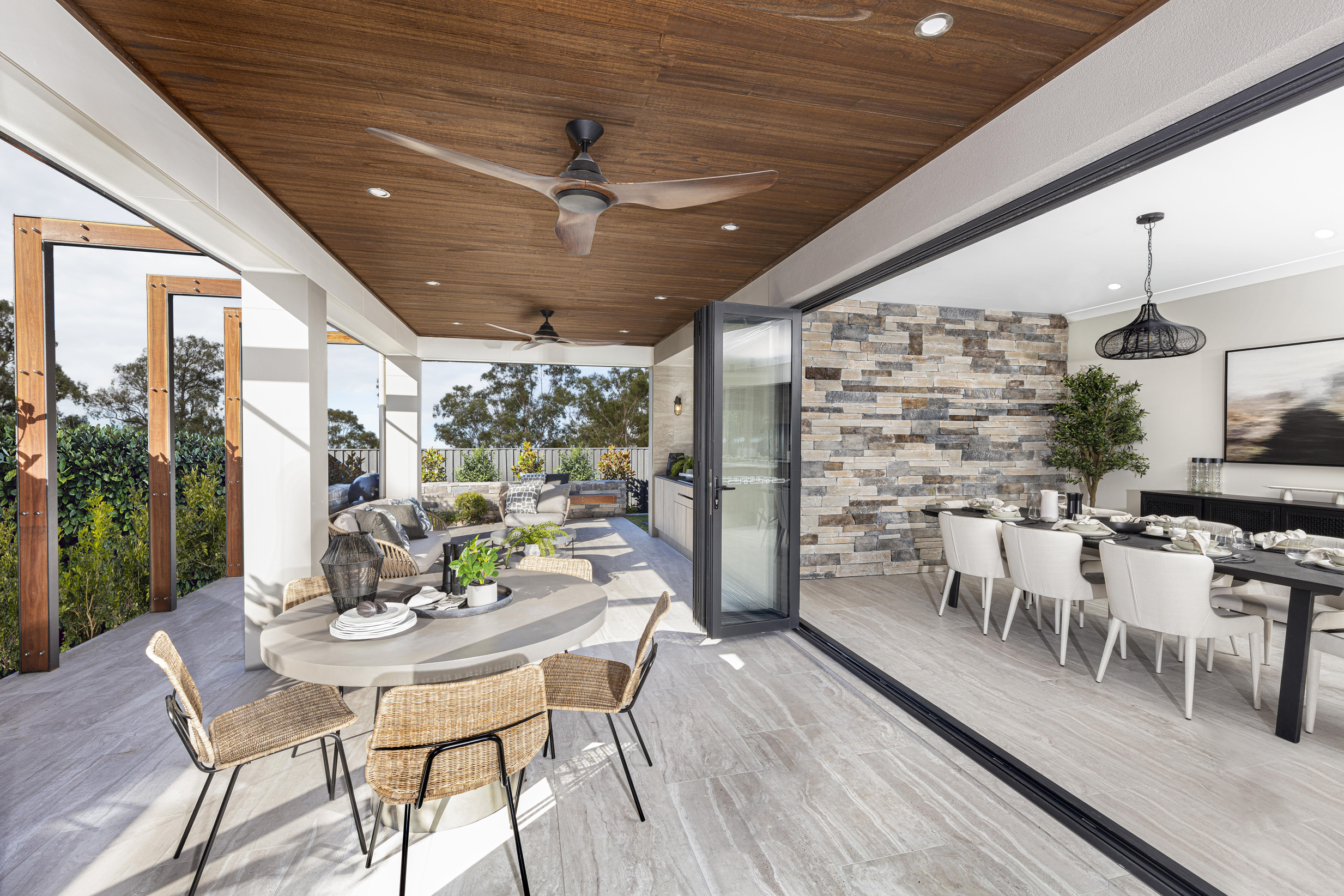 At McDonald Jones, we love assisting our customers build stunning new homes and watching your dreams come true from home design to the perfect outdoor room.
Our experienced team of Building and Design Consultants are available to answer your questions PLUS we offer a Free Quote and complimentary site inspection Discover how easy it is get started on your dream home today.
Contact us or visit one of our inspiring display homes to find your perfect home design.
---