MyChoice Design Studio
Interior design is one of the most exciting yet overwhelming stages of the home building journey. At the MyChoice Design Studio, our expert team of interior designers will help you create your new home to be a beautiful reflection of your personal style.
Our team of expert interior designers will step you though each home selection, including light fittings, entertainment systems, carpets, tiles, floors, kitchen splashback colours, door handles, window furnishings and more, customers are encouraged to select the unique fixtures and finishing touches that will make their design instantly feel like home.
We believe interior design transforms an architecturally designed house into a beautiful home, to be cherished for a lifetime. At McDonald Jones, we have the passion, expertise and professionalism to help you bring your new home dream to life.
So much more than just bricks and mortar
The MyChoice Design Studio gives you the opportunity to cover off on every aspect of your home, from the brick and mortar colour to the direction of the handles in the ensuite, not to mention the finishing touches for your flooring, window furnishings and driveways.
There are even electrical specialists to help you select the right light fittings, entertainment and security systems. You can also choose your heating and cooling options without leaving the design studio. And everything you do with our team is incorporated into your personal floor plan using our interactive software.
MyChoice Design Studio Thornton flythrough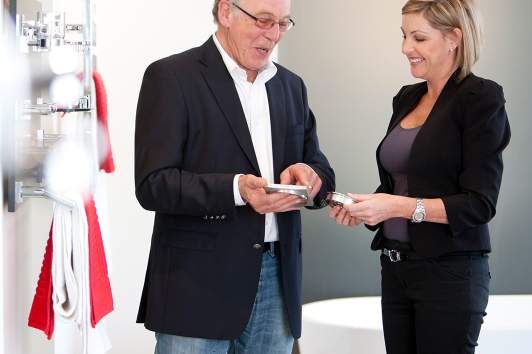 Our interior designers live for their craft
Whether it's adding a new twist to a classic colour palette or finding the best set-up for your home theatre, with our MyChoice experts it's never been easier to stay up-to-date.