House of Rewards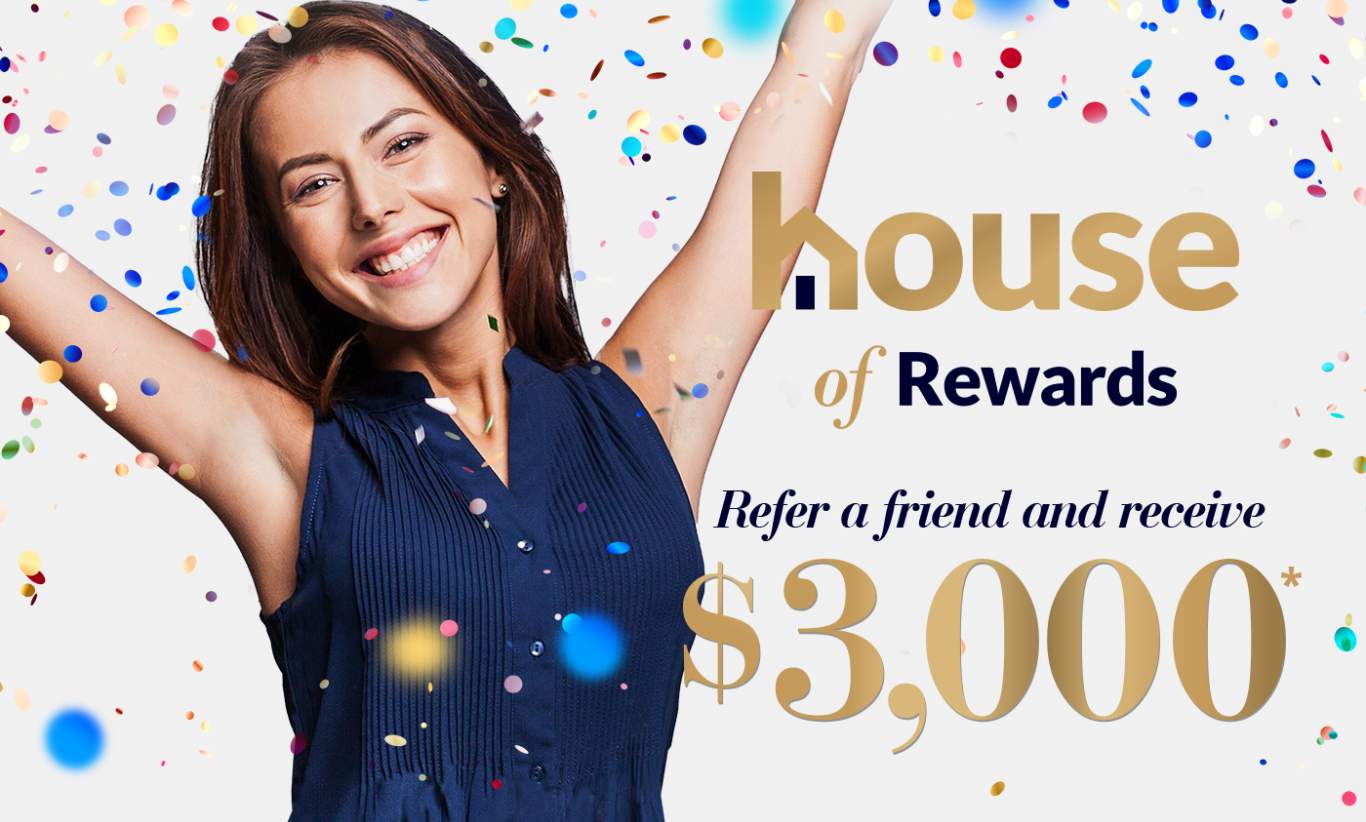 To help launch our new House of Rewards Referral Program, for a limited time, we're giving our customers the opportunity to score a $3,000* Gift Card.
Simply refer your friends and tell them about your extraordinary McDonald Jones home and when they begin their build with us, you will receive our biggest thank you ever!
PLUS, your friend will also score $3,000* towards their new McDonald Jones home to spend at the MyChoice Design Studio.
The more friends you refer, the more you earn.
Offer ends 31 January, 2022.
Complete the form below to start your rewards today
Terms and Conditions
Welcome to the House of Rewards Program.
*By submitting an application, you agree to these terms and conditions.
If you refer a new customer to McDonald Jones we will provide you with a $1,500 gift card to say thank you, ensuring the eligibility criteria below is satisfied.
You must be an existing McDonald Jones customer, that is, you have entered into an agreement with McDonald Jones or any other NXT Building Group company previously.
The person you are referring (the New McDonald Jones Customer) must not have built with or entered into an agreement with McDonald Jones in the past six months.
You cannot refer yourself.
You cannot be an employee of any NXT Building Group entity or an immediate family member of an employee and neither can the New McDonald Jones Customer.
Only one $1,500 gift card can be issued for each new construction contract.
The gift card will be posted to the address nominated by you or available for collection (at the election of McDonald Jones) when the New McDonald Jones Customer pays their slab stage progress payment.
The NXT Building Group may change the terms and conditions of the House of Rewards Program at any time including the amounts, form of reward or termination of the promotion at its sole discretion.
You agree to your personal information being collected and used by the NXT Building Group to confirm eligibility and for marketing purposes, please see mcdonaldjones.com.au for our privacy policy and commitment to you under the Privacy Principles.
You have the permission of the New McDonald Jones Customer to refer them to McDonald Jones and provide their personal details including telephone contact details.

If you are a new customer to McDonald Jones and you have been referred by a person eligible for a $1,500 gift card, McDonald Jones will reward you with a $1,500 MyChoice Studio Voucher if you meet the eligibility criteria below.

You must not have built with or entered into an agreement with McDonald Jones in the past six months.
You cannot refer yourself.
You cannot be an employee of any NXT Building Group entity or an immediate family member of an employee and neither can the person referring you to McDonald Jones.
Only one $1,500 My Choice Studio Voucher can be issued for each new construction contract.
The $1,500 My Choice Studio Voucher will be applied to your contract for you to spend on Colour Selections at the My Choice Studio. The voucher cannot be redeemed for cash or be used as a reduction to the contract price.
The NXT Building Group may change the terms and conditions of the House of Rewards Program at any time including the amounts, form of reward or termination of the promotion at its sole discretion. You agree to your personal information being collected and used by the NXT Building Group to confirm eligibility and for marketing purposes, please see mcdonaldjoneshomes.com.au for our privacy policy and commitment to you under the Privacy Principles.
McDonald Jones Rewards Launch Offer
1 December 2021 – 31 January 2022.
To celebrate the launch of our new House of Rewards referral program McDonald Jones are doubling the reward.
If you meet the eligibility criteria above before 31 January 2022, the $1,500 reward will become $3,000!
All terms and conditions apply.