Five New Display Homes to Discover
We know how inspiring it is to visit display homes, experiencing the flow of the architecture, whilst imagining how the home design will respond to your lifestyle and personal way of living, it is vital to understanding what you really desire for your new home. 
We believe a home tells your story and uncovers how your family wants to live and we invite you to discover where your new home story begins at our five stunning new display homes within the newly opened HomeWorld Marsden Park.
Discover a range of Single Storey & Two Storey Designs 
These new homes connect with our four existing display homes at  Elara, Marsden Park making a Marsden Park visit an easy and enjoyable day, where you can experience a diverse range of single and two-storey designs and styles all in the one location.  
The new display homes, we have recently opened, include a new smartly designed two-storey Sevilla 28, an innovative version of the much-loved San Marino Manor 16, plus our much-loved Havana Encore 14, plus the award-winning design - the St. Clair 37 One and one of our most popular two-storey home designs the Tulloch 31 One. 
These five new display homes are just a short stroll from our Elara display homes, including our single-storey Essington & Miami 16 and the spectacular two-storey Castleton & Tulloch. 
Unique and Inspiring Interior Design  
Each of our new display homes are exceptionally finished with the latest interior design styling trends, featuring innovative new products that you can select for your new home.
The three two-storey designs could not be more different in design and in styling, providing visitors with a wonderful breadth of range to compare and consider for their new home.
A rich, casual Plantation-style elegance welcomes you from the moment you step inside the St. Clair 37 One with stylish dark-coloured woods featured within the flooring, plantation shutters and key feature furniture pieces that provide a sophisticated contrast to the light neutral-toned walls and striking ceiling fans and create spaces where you can imagine living every day.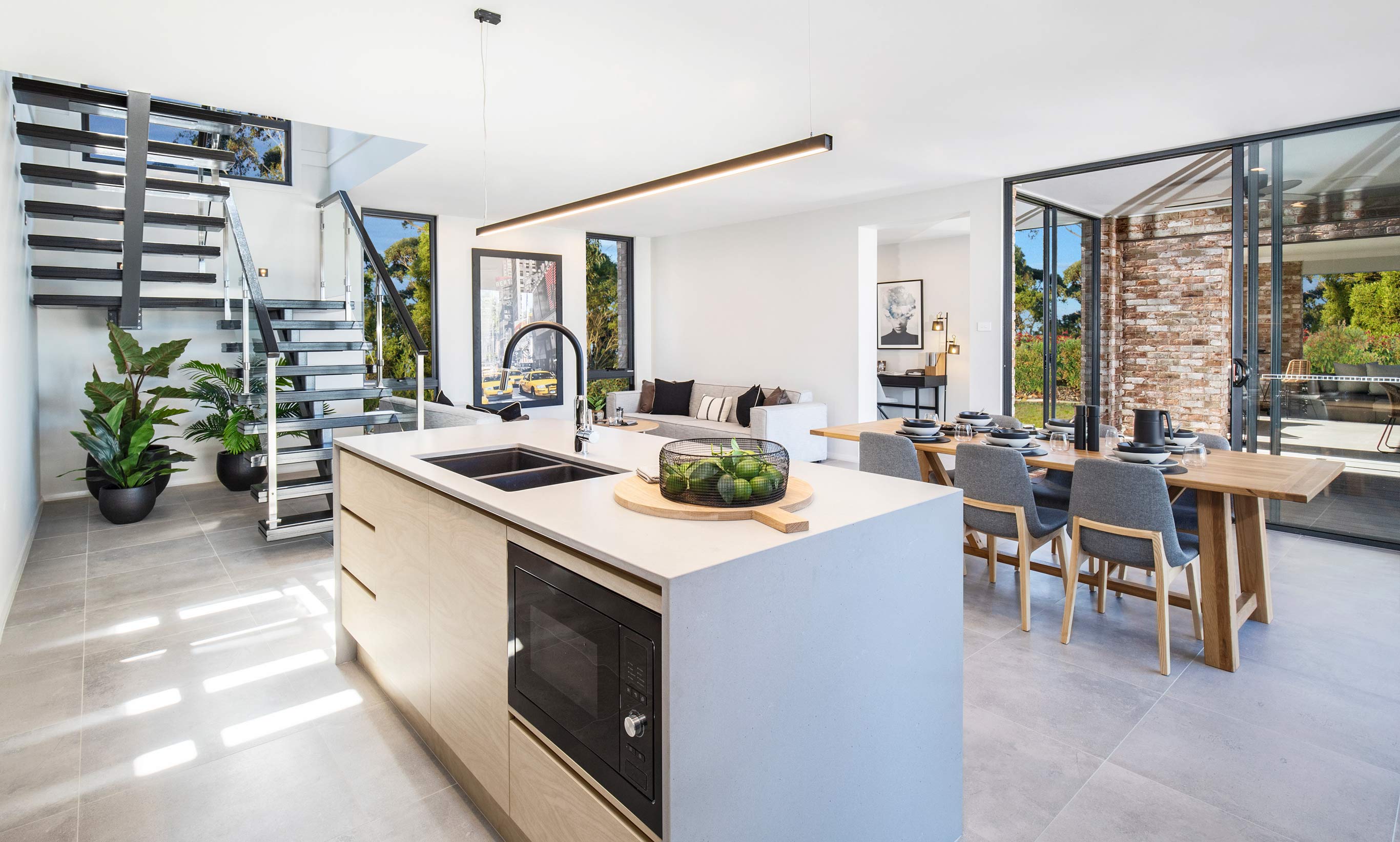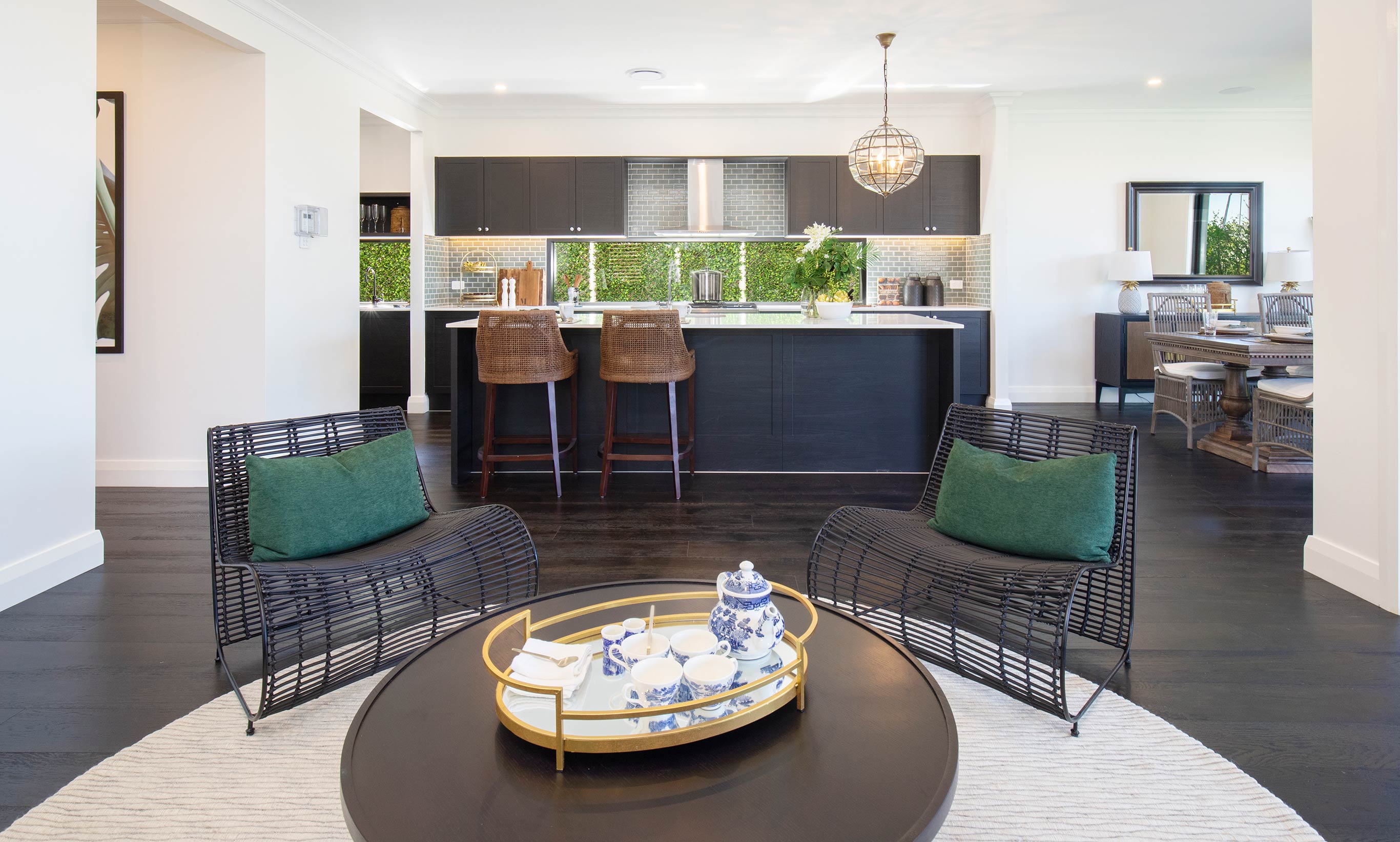 The simplicity of the Modern stying throughout the Tulloch 31 One is where clean lines, matt finishes and a soft neutral colour palette combine to create a welcoming and stylish home, where you can imagine resting after a long day at work or in the home office. 
The brand new Sevilla 28 is a chic Urban - Industrial styled home complete with modern and aspirational features like textured brickwork and striking black features throughout the cabinetry, windows, façade and staircase.
Effortless sophistication and simplicity are showcased throughout the Minimalist styled Havana Encore 14. Subdued neutrals and functional streamlined design elements create a home of timeless and effortless beauty. 
Our newest single storey design the San Marino Manor 16 is delighting our visitors with a new version of a much- loved classic design. With its Organic stying and enchanting natural elements, shapes and tones used through this wonderful new design, you will picture yourself here creating many happy memories.
Home Designs for Contemporary Living 
These new display homes offer inspiration for you to weave your own narrative and to help create the new home that will perfectly reflect your lifestyle desires. 
These new homes are available to visit, and we encourage you to make an appointment to save you time throughout busy periods. Our teams are managing our Display Homes to meet Covid-19 requirements such as monitoring access and limiting the number of people inside our homes to ensure social distancing, offering hand sanitiser, completing frequent cleaning and promoting healthy airflow. 
So make your plans to call out and meet the team at HomeWorld Marsden Park this weekend or you are welcome to book your visit at a specific time with our team.
---