What is Organic Styling
Organic or organic modern is a style that has grown considerably in the past three years. This style encompasses the feeling of raw, earthy, rustic and textured elements and creates an atmosphere of calm and subtle serenity.
Natural environments such as fields, forests, skies and waterways inspire this style while using natural light, nature's forms and natural materials throughout a home are essential elements of an organic home.
We adore the simple clean lines and use of natural materials throughout our organic homes to showcase the best of organic style.
Read on to discover our best tips to create your very own organic styled home.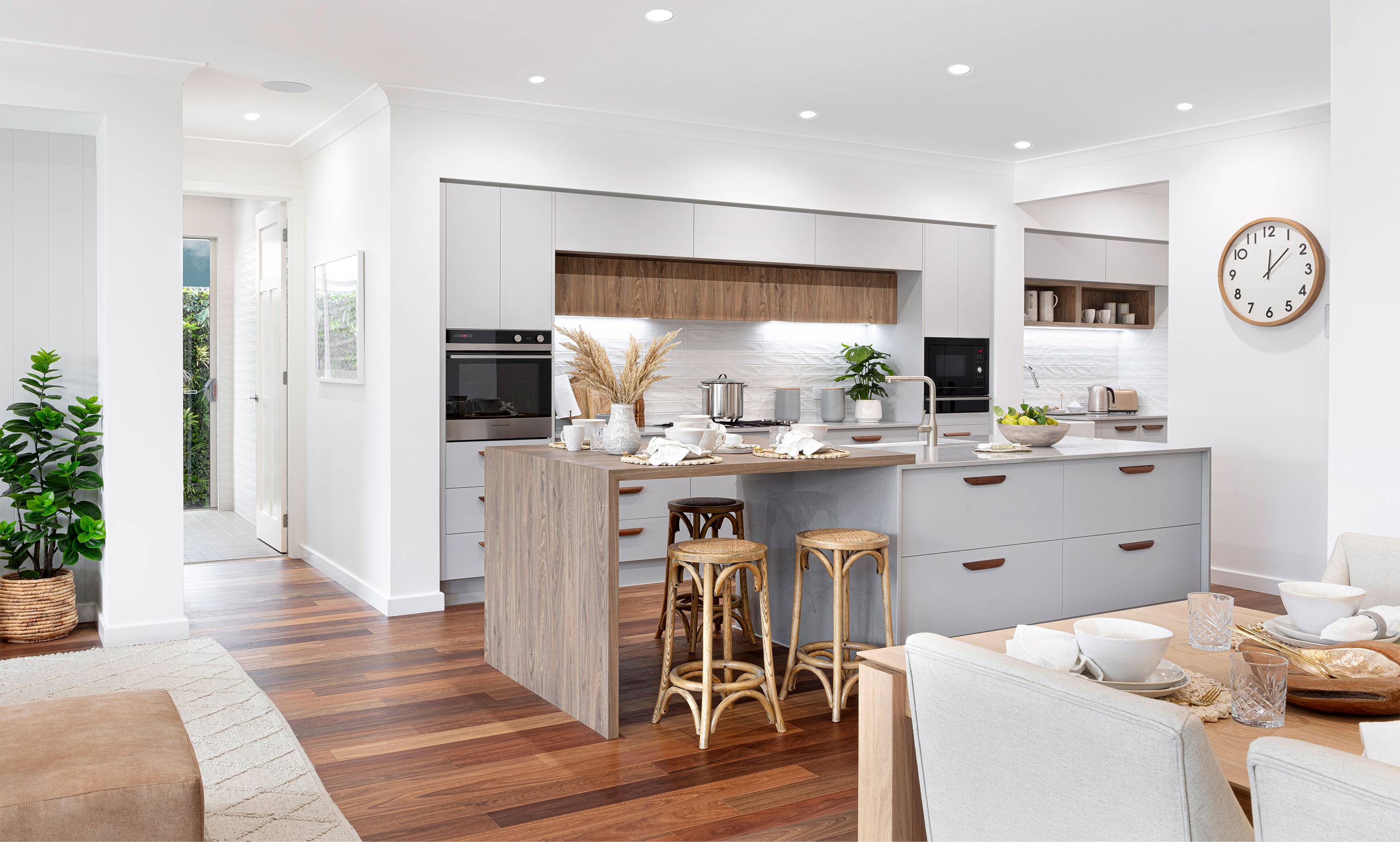 10 tips to create your organic styled home.
1. Pure, white canvas.
The organic modern style is one that faithfully stays true to a subdued, light and airy colour palette. Typical hues are whites, creams, pale greys, beiges and stone with the occasional feature of bolder tones across the natural palette.
Fresh white walls are the perfect way to set the tone of the room and complement the natural finishes and furnishings you select for your home. From wood finish cabinetry in the San Marino Manor at HomeWorld Marsden Park to the stone feature walls like in the Seaview at Waterford Living.
2. Use natural materials
One of the most appealing characteristics of organic modern interiors is the abundance of natural materials used throughout the home. Most commonly, this can be seen in grainy and warm-hued timber flooring, cabinetry and furniture.
Rattan and bamboo are also popular, especially in organic light fittings and other small décor items, with faux fur and wool perfect for soft furnishings.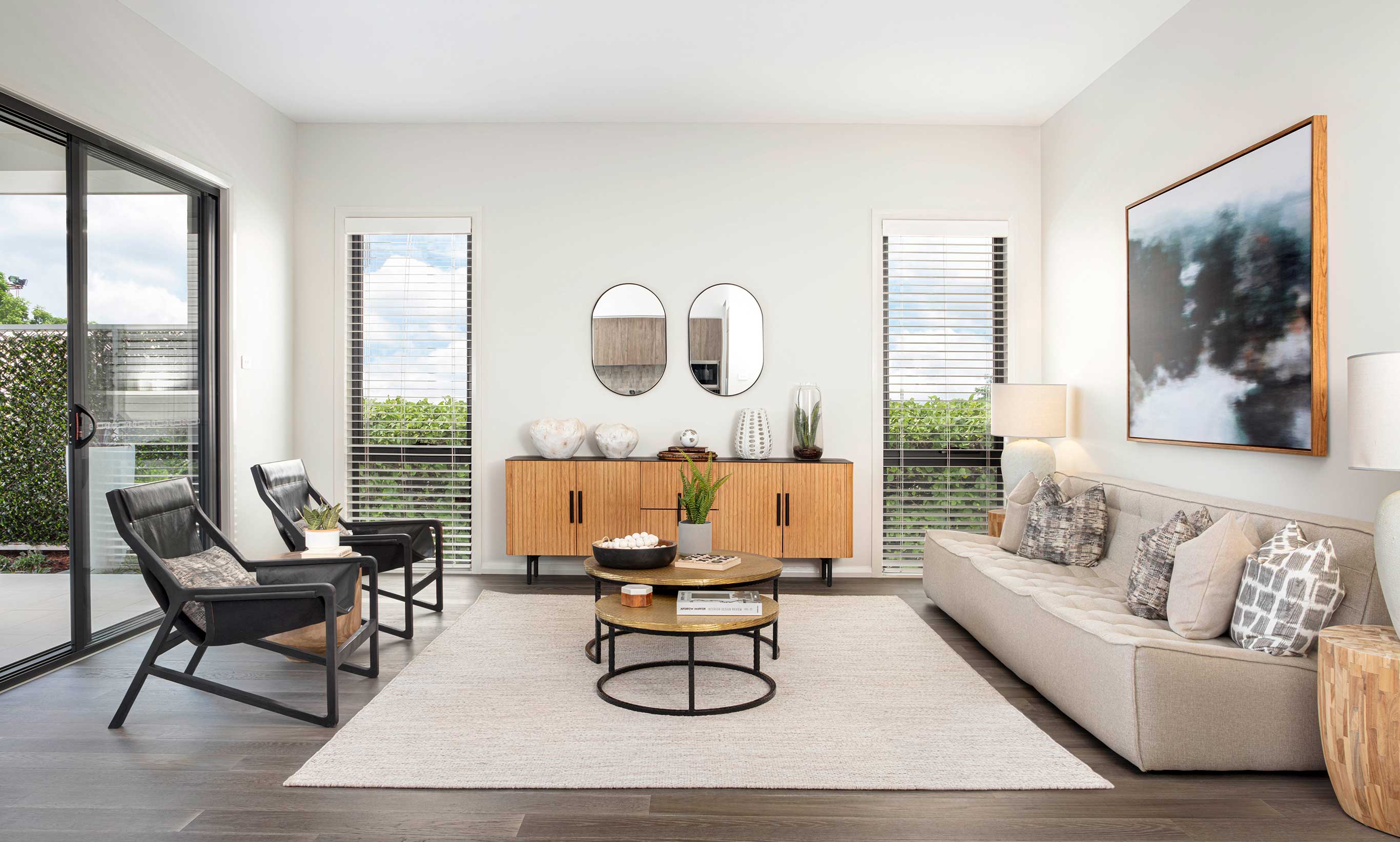 3. Incorporate soft, natural shapes
Nature does not subscribe to straight lines, instead, perfectly imperfect shapes are found throughout the natural environment including beautiful rolling hills, curved leaves, flowing rivers, and soft fluffy clouds. Incoporate pieces that mimic the natural curves and flow of nature, or a natural unique 'roughness' such as the elegantly rugged edges. Recreate the feelings of a natural softness through imperfect or curved shapes.
4. Introduce plants to the space
There is one thing that will always be in style and that is a beautiful house plant. Organic modern style is the ideal to let your love of lush greenery go wild from towering Bird of Paradise or Fiddle Leaf Fig to a Snake Plant, Pothos or Peace Lilly. The options for indoor plants are endless so make sure you do your homework on their needs, space, light and effort you have for each of your plantlings.
5. Keep it minimalist
Another key design aesthetic of modern organic interiors is a clean and uncluttered look. Open and free of fussy styling is key to this look, so 'less-is-more' is the ideal approach to create this style in every space.The Seaview at Waterford Living is a sophisticated and moody example of organic styling.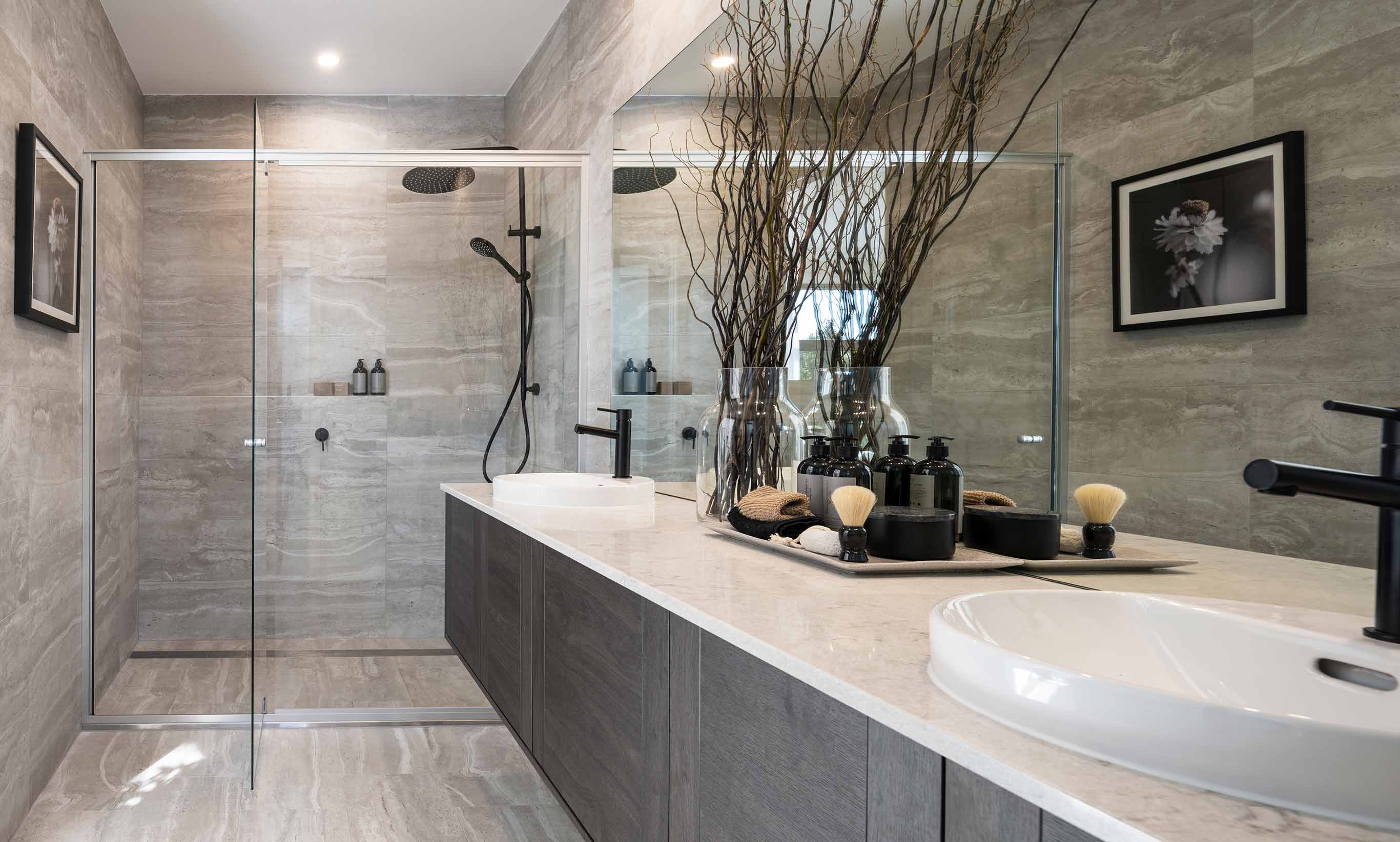 6. Include hand-crafted pieces
Naturally, hand-crafted organic items add a sense of personality and worldliness to an organic home. From furnishings to homewares, the imperfect nature of hand-crafted pieces bring the organic home to life and connect home life to the global community. We love wall hangings, woven baskets, and hand-made, wall art, and sculptures to add the final touches to your organic home.
7. Explore the organic colour palette
No matter what room you are creating, your organic home should feature the true natural colour palette of pale light hues branching from white to beige to grey, stone, earth and back again. To personalise a space, you can add a few touches of bolder colours within the natural colour families, as a point of uniqueness, to complement the light and airy base like this beautiful bedroom in the Santa Monica at Wongawilli.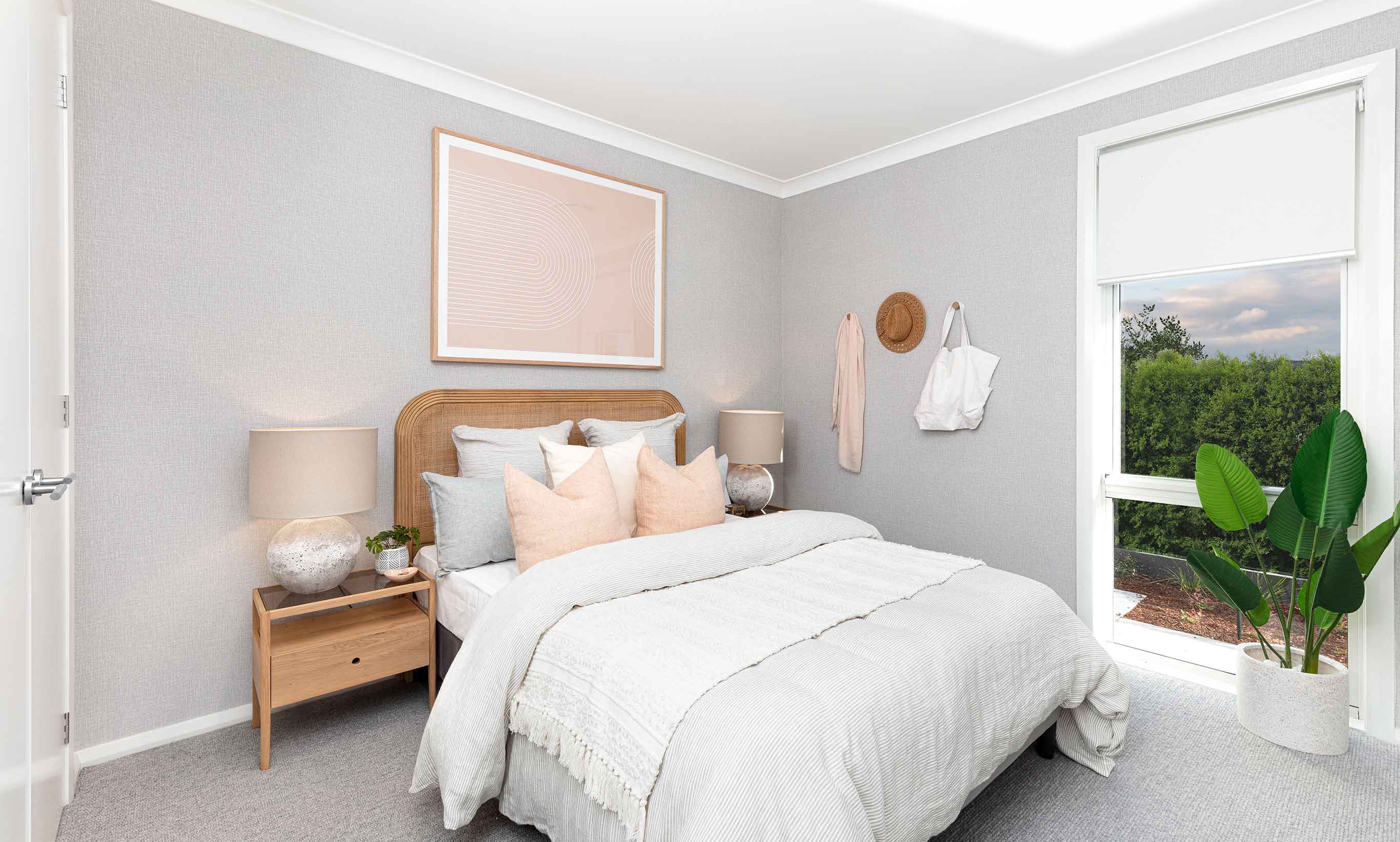 8. Prioritise comfort
">
An organic home is one that evokes feelings of comfort and relaxation set within a soft and calm space to inspire complete peace and solace. Big chunky throws, cottons and linens soften furniture and beautifully complement natural timbers, rattan and wicker.
9. Play with textures
Textures across all surfaces and materials is an important element to an organic home. This focus on natural and organic textures complements the subtle colour palette perfectly.

By including a variety of textures within the same hues of this style it helps to create a layered and dynamic look without appearing crowded or cluttered.
10. Think sleek
Modern design is clean and smooth, and organic modernism leans heavily into this trend. When designing a home cabinetry finishes are best handless or with unfussy handles and smooth stone surfaces and minimal detail across the flooring, tiling and all selections is ideal.
Discover Organic Styled Display Homes
We invite you to explore our four stunning organic styled display homes: Veuve Executive at Googong, San Marino Manor HomeWorld Marsden Park, Santa Monica at Wongawilli & the brand new Seaview Waterford Living. These homes each have their own unique version of this beautiful style.
Call our McDonald Jones Homes team on 1300 555 382 or enquire online.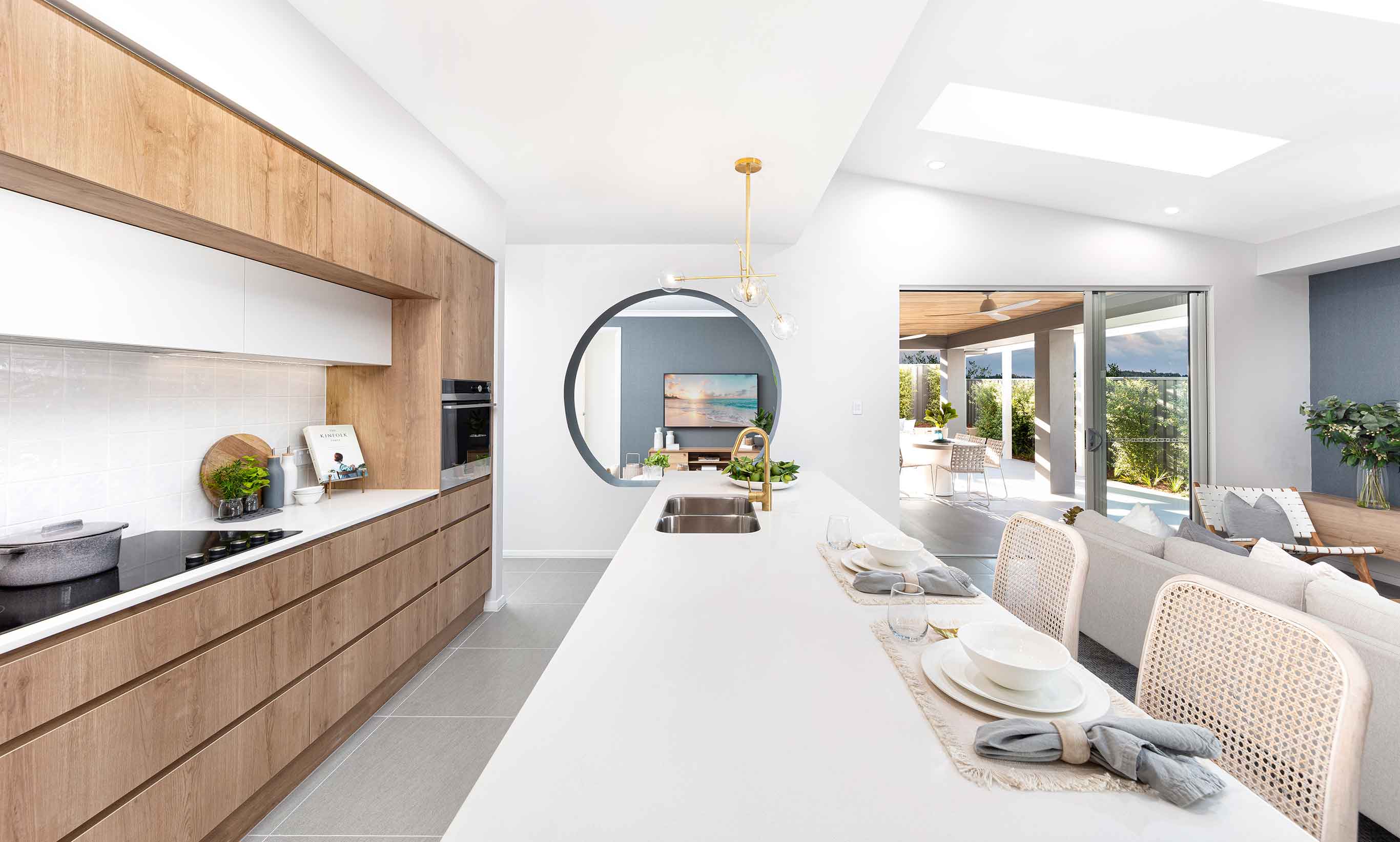 ---